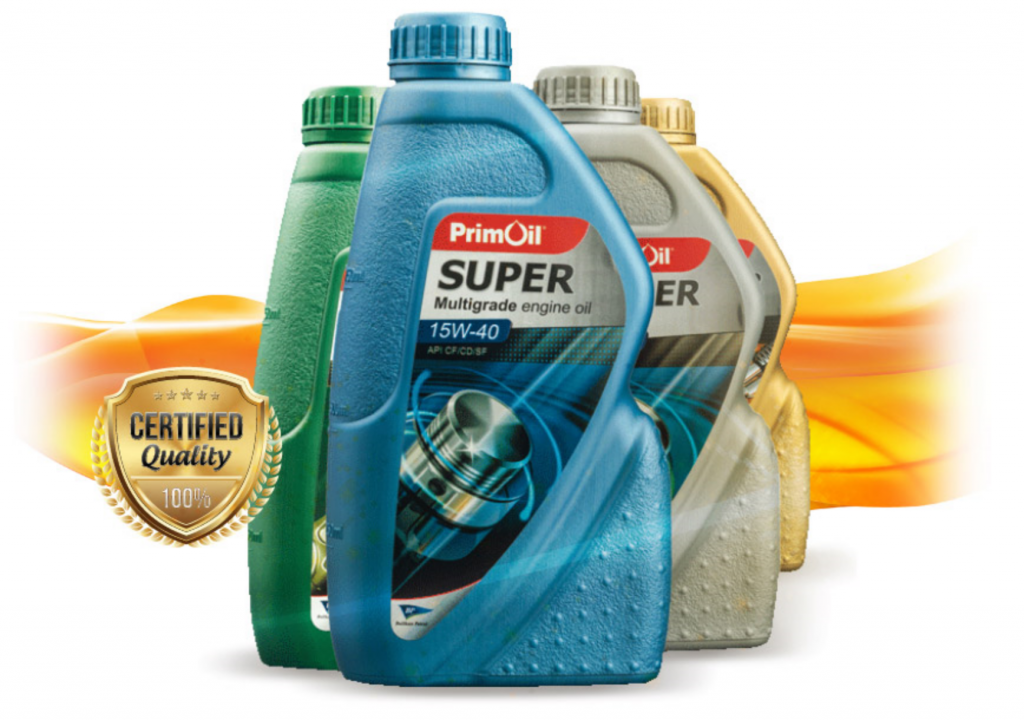 PRIMOIL
The factory for the production of motor oils, industrial and other fludie, with address in Rr.Industraile pn.Fsh Gurëz Ferizaj, made the sale of motor and industrial oils as well as other materials with the brand PrimOil. The factory possesses sophisticated technology and laboratory and in cooperation with well-known manufacturers of Basic Oils and Additives and foreign experts has made it possible to develop the production of oils with the highest standards so that PrimOil products are known in the domestic and European market.
To be in the trend of developments we are working to offer products and services which will be competitive in the European market.
Balkan Petrol's goal is for PrimOil products to conform to international standards. To achieve these objectives we have implemented the product quality management system (International Standard ISO 9001 for quality management), the implementation of the management system for environmental protection (International Standard ISO 14001 for environmental protection), and we are accredited by the Kosovo Accreditation Directorate according to ISO 17025 standards (Balkan Petroleum Laboratory accredited according to ISO 17025 standard).
In order to be as close as possible to our customers, we have specialized persons in this industry in order to offer our customers choices and to give instructions for the use of motor and industrial oils.
DERIVATIVES
Balkan Petrol made wholesale and retail sales of Euro Super 95, Euro Super 98, Euro diesel, Euro 5, Gas LPG.
The quality and quality of petroleum products is guaranteed as we are in cooperation with the largest oil companies in the region.
The quality of petroleum products is guaranteed as the whole process of supply, storage and sale is controlled by our professional staff that provides our customers with assurance in the quality of petroleum products.
In fuel sales points, We as a contractor supply the Institutions of the Republic of Kosovo such as: Kosovo Police, Kosovo Customs, Assembly of the Republic of Kosovo, Minister of the Republic of Kosovo, various banks, Kosovo Security Force, PTK as and many public and private institutions. In Balkan Petrol points you can also be supplied with oil products produced by our factory PrimOil.
RESTAURANTS
Restaurant – Pizzeria Balkan Petrol started working in May 2002. Architects from European countries have been engaged in the work and design of the restaurant, where they have built an exclusively family environment. The restaurant has a qualified staff in the preparation of food, mainly with Italian menus and recipes, with good and fast services.
Since 2009 we have added to the customer service the Italian style pizza with the master Francesco, which has enabled to have many visitors from all over the region.
We are implementing the establishment of a quality management system for food control, with HACCP standard.
Balkan Petrol has also opened a restaurant in the city center in Ferizaj, where customers are offered a restaurant with a quiet environment in providing quality food.
MARKETA
In the fuel outlets there are also markets which offer various food products, cosmetic products (perfume, levels, etc.), as well as products for car maintenance. All products in the markets are from the most famous world brands. Also at these points we offer electronic refills in Ipko, Vala, Zmoblie, we have thought to be closer to the customer in performing services in one place, helping to save time.